Detailed Information and Ordering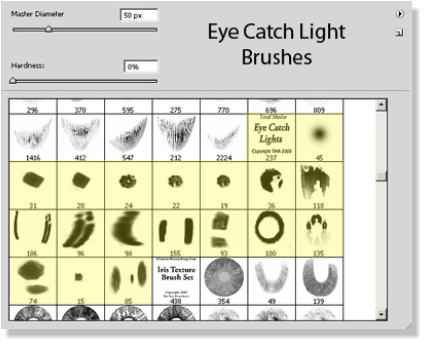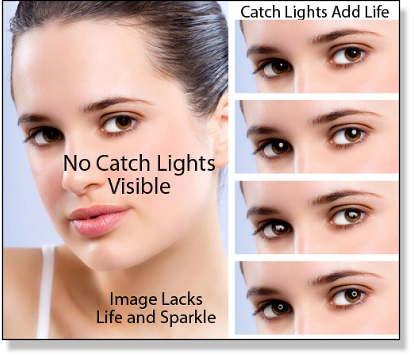 Notice The Difference That Eye Catch Lights Can Make!
Eyes and Light - they go together! Sparkling eyes give an image energy and interest.
No matter how perfect an image may be, without sparkle in the eye, and without catch lights showing in
the eyes, it can look dull and lifeless. Adding or drawing catch lights in by hand has been almost
impossible. Now you can add the sparkle you want …where you want it…with these photographically
accurate Eye Catch Light Brushes. Using these Eye Catch Light Brushes will give you the power to
enliven your image and even change the impression of where it was taken.
The Eye Catch Light Brush Set
Set includes a variety of 15 different catch lights
•
Brush Styles include: the sun, photographer's lights, flashes, umbrellas, soft lights, reflectors, ring
lights, and people
•
These photographically accurate catch light brushes eliminate the need to draw lights by hand
•
Eye Catch Lights can be precisely positioned anywhere on right and left eyes
•
Eye Catch Lights can be scaled for any size image
•
Brushes work on images from web size to 16 X 20. Usable with Photoshop CS - CS6 PC or Mac
Eye Catch Light Brush Set
Video Demonstration
Purchase Your Eye Catch Light Brushes Here
This Brush Set is a secure DOWNLOAD available as soon
as we process your order.
You can easily and securely pay here by Credit Card,
Debit Card, Bank Check, or PayPal.
"Sometimes my lighting setups do not produce that critical catch
light in the eyes. When that happens these brushes are great for
adding that glint back in the eyes." Paul NC


Professional Retouching Tools, Training, and Resources













CLICK HERE TO ORDER YOUR BRUSHES.
Compatible with CS-CS6 PC or Mac