Beautiful lips require more than just color... they also require that Totally Glamorous Glossy Look!
You know it almost impossible to create realistic looking lip glosses by hand. This set of Professional Lip Gloss Brushes
creates instant gloss, shine and glamour. Just tap down on the 20 different upper and lower lip glosses and apply them
with your pen. They create instant sparkle, shine and shimmer… in a few easy steps. These gloss brushes are
photographically accurate and are totally adjustable in size and position.

Purchase these brushes to get that absolutely
gorgeous shine, glitter and gloss on any of your images.

Purchase Your Lip Gloss Brushes Here
The Lip Gloss Brush Set is a download... the link will be sent to you
via e-mail as soon as we process your order You can easily and securely pay
by Credit Card, Debit Card,Check, or by PayPal.
CLICK Below TO ORDER YOUR BRUSHES NOW
Watch How The Lip Gloss Brushes
Work in YOUR Retouches
The Lip Gloss Brush Set Loads into your Photoshop
Brushes Pallet. CS-CS5.5 Compatible for PC or Mac
Before and after example of the brushes in use.
Set includes 20 upper lip gloss and 20 lower lip gloss brushes
•
Brushes are photographically accurate, studio quality captures of real life lip gloss. Professional Grade.
•
Gloss Styles range from barely there... to the totally wet look... to absolute glamour glitter looks!
•
Glosses can be precisely adjusted for perfect position, size, placement, and intensity
•
Create beautiful looking lip glosses easily and accurately... in just a few keystrokes...on any image.
•
Brushes work on images from web size to 16 X 20". Usable with any Photoshop version CS -CS6. PC or Mac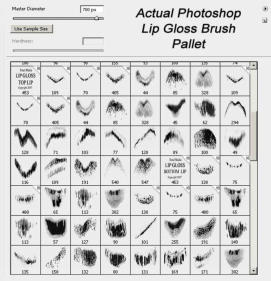 Professional Retouching Tools, Training, and Resources











Compatible with CS-CS6 PC or Mac